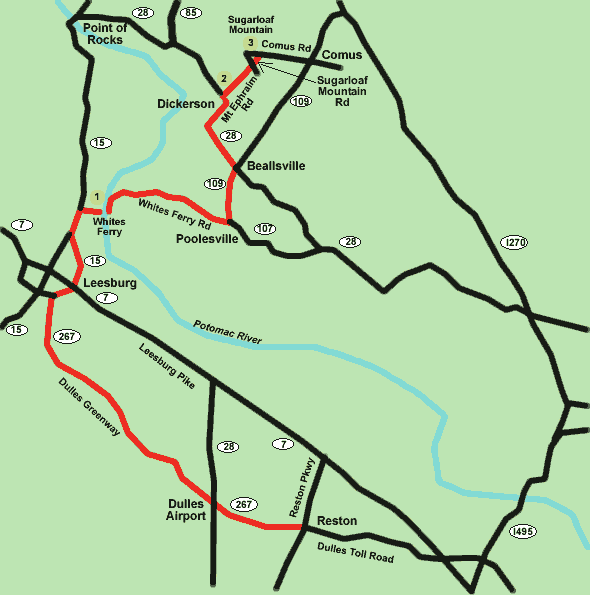 Click here to see the entrance to Sugarloaf Mountain on Google Maps.
Driving Directions to Sugarloaf Mountain from Reston.
Take the Dulles Toll Road west. The Dulles Toll Road becomes the Dulles Greenway. Remain on this road until it ends at State Route 15. Exit in the right lane to take Route 15 north.
Route 15 will narrow to a 2 lane highway and join Route 15 business. About 1 mile later turn right at the sign marked Whites Ferry. This is a narrow road leading to the Potomac River.
The road ends at a ramp for the ferry. The one way fare is 3 dollars, the round trip fare 5 dollars. White's Ferry maintains a web site that may be accessed via a link at the end of these directions.
After exiting White's Ferry on the Maryland side turn left at the first intersection to continue on Whites Ferry Road. Stay on Whites Ferry Road for 6 miles until reaching the town of Poolesville. At the first stop sign turn left onto Route 109.
Continue on Route 109 for 2.4 miles until the first traffic light at Beallsville. Turn left here onto Route 28. Stay on Route 28 for 3.4 miles until the town of Dickerson. After passing under the railroad bridge at Dickerson take the first right onto Mount Ephraim Road. A commuter rail station will be seen on your right and Sugarloaf Mountain can be seen in the distance.
Stay on Mount Ephraim Road until it intersects with Sugarloaf Mountain Road. (You may not even notice the change in road names as you come to this intersection). Mount Eprhraim Road turns left here but instead continue straight on Sugarloaf Mountain Road until reaching Stronghold. The entrance to Sugarloaf Mountain is clearly marked with a large sign there.
After exiting the road from Sugarloaf Mountain turn left onto Comus Road. This will take you back to Stronghold. To return via Interstate 270 remain on this road through Stronghold and drive 2.4 miles until reaching Comus. Comus Road does not have a direct connection with Interstate 270. Turn left onto Route 109 and drive 2.7 miles to reach an entrance to Interstate 270. Take I270 south to I495 south (exit from the right lane of I270). Exit I495 at the Dulles Toll Road to return to Reston.
To return via White's Ferry turn right at Stronghold onto Sugarloaf Mountain Road and retrace your original route.
There are several shorter side roads connecting Dickerson with Whites Ferry Road but they were not suggested because they are narrow. They are not shown on the map to avoid confusion.
Link to White's Ferry web site.
Next - Pictures on the driving route.